This challenging and unique project not only required complex 3D design and animation, but was a fascinating exploration into translating concepts of sound into sight. Audistry, a Dolby company, came to Universal Head to create an interface for their exciting new set of audio features. Up to this point the demo consisted of the usual square boxes, sliders and dialogs; but Audistry wanted something absolute unique that would express the special nature of their technology at presentations around the world.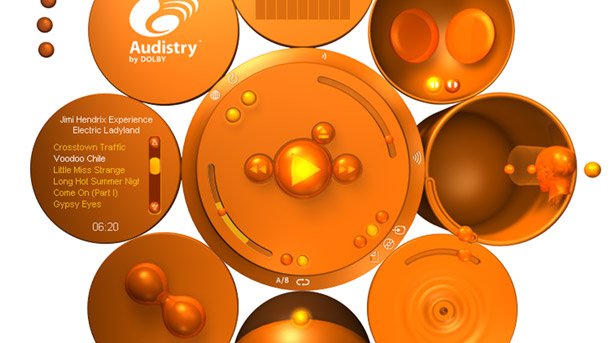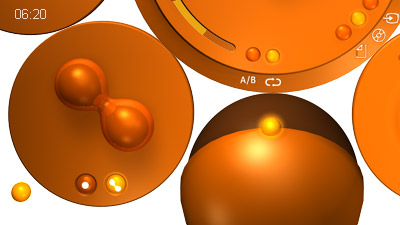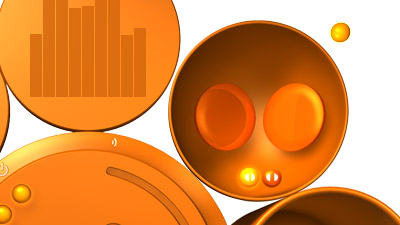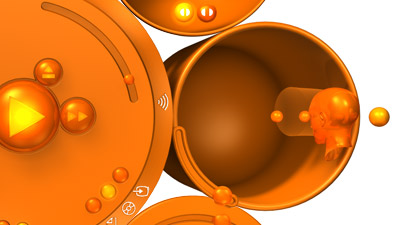 Each feature is allocated to a disc, which 'at rest' simply shows its name. When the small sphere next to each disc is clicked, the disc revolves to reveal controls (the images here show all of the discs in active mode). Within the spherical theme, each controller is a visual and interactive representation of what that feature does. For example, one widens the stereo response when the user is wearing headphones; in the interface, as the user moves the slider, the 3D cone moves further out from the head and into the 3D tube, visually describing what is happening to the sound.
The interface proved to be as intuitive and expressive as it was designed to be. In addition to the interface (originally called Brand X) Universal Head designed a DVD package and documentation and a first edition identity, and later re-worked the interface to match the new Audistry branding.
Certainly this was one of the most challenging and unique projects ever to go through the Universal Head studio, and it required all of Peter's experience in visual communication to make it such a success.
Universal Head took on an extremely challenging project of visually representing audio technology … the results were remarkable. The final design managed to be both practical and innovative; it emotively engaged the audience while communicating what the technology does. This made a huge positive impact on the customer engagement, marketing and promotion of the 'Audistry by Dolby' brand. We found Universal Head very enjoyable to work with and extremely committed to get us the best results. We would recommend them for challenging projects requiring the highest professional standards of design.
Mahesh Sundaram Vice President, Marketing | Audistry LLC, A Dolby Company