Medieval Arabia, 12th century feudal Japan, and now the mythological lands of the ancient Mexicans and mid-20th century Venice—Universal Head continues to design evocative visuals to complement and enhance illustration and design in the boardgame industry. The latest are Aztlán and the relaunch of Inkognito, both for Italian games publisher Ares Games.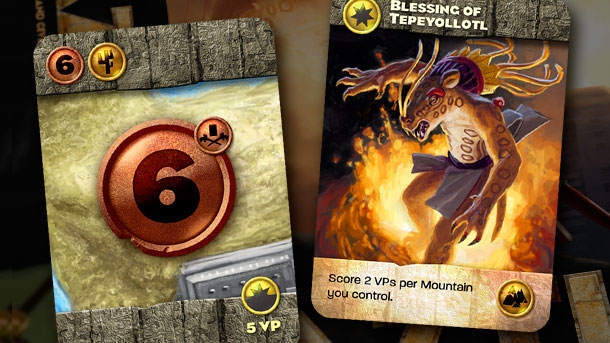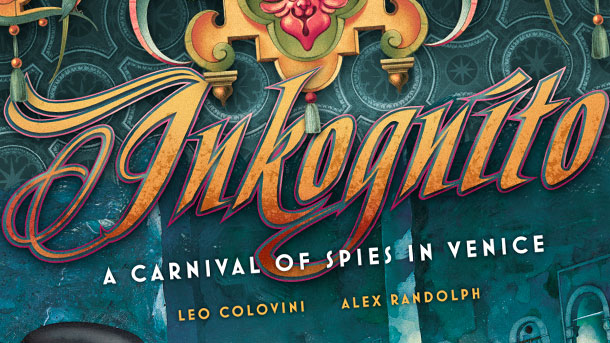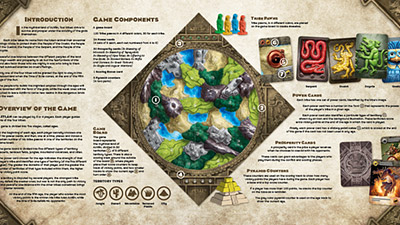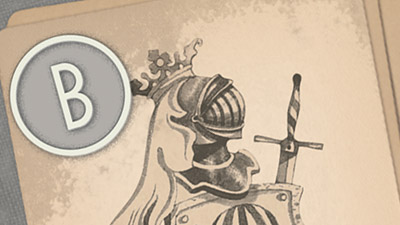 For Aztlán, working with talented illustrator Drew Baker, Universal Head designed a rulebook, box, cards and an icon style and prepared all the files for print. Using original photos taken at the Mayan ruins of Chichen Itza during a visit ten years ago, textures were created that enhanced the detailed illustrations, and fonts chosen that expressed the theme most effectively.
For Inkognito, Universal Head had to revamp the look and feel of the game, and create new designs, while retaining the quirky watercolour illustrations of the original. So the backs of the 'passport' screens used parts of the illustrations with the addition of new elements carefully modified in Photoshop to match the original, traditionally-painted style. Conveying the somewhat nebulous time period of the game was tricky—the art focuses on the old carnivalé event in the city with its Renaissance trappings, while the game is actually about pre-World War spies! The solution was to use both ornate decoration from the Renaissance and period-accurate early modern fonts. It took considerable effort to make these disparate styles work well together, but the result has quite a unique feel that comfortably positions the game in its own setting.
It has been a pleasure to work with Peter Gifford. Our company does not normally outsource the graphic design of its games, but we choose Universal Head for this project due to the combination of Peter's deep understanding of games and his high professionalism as a graphic designer. Universal Head proved to be the right choice for us, as Peter was able to deliver in a timely manner an excellent design, adapting his style to the graphic 'signature' of our company when needed, but at the same time showing clearly through the design choices his creativeness and skill.
Roberto Di Meglio, Ares Games